Year 2
We have come to the end of our first full week in Year 2 and we are delighted to say how wonderfully your children have settled in. They have made an excellent start and have already produced some very pleasing work. For further details of the curriculum coverage, you can click on the link below.

We would like to take this opportunity to inform you of a few important details. We know how important it is to keep hydrated throughout the day, so please send your child in with a water bottle filled with fresh water each day. Your child will have a PE lesson on Thursday afternoons. Weather permitting, this will take place outside. The PE kit consists of a white t-shirt, black shorts, socks (no tights!) and pumps. Long hair should be tied back and no jewellery is to be worn. Please ensure all pieces of uniform are labelled with your child's name so, if mislaid, it is more likely to be returned to the right person.

Homework will be given out each Friday and is to be completed and returned by the following Wednesday. Please aim to spend a few minutes each day to hear your child read. Once you have, please sign their reading diary and the page they have read up to. Once your child has read the whole book, they will be allowed to change it for a new one.

Each week, a child from the class will be chosen to take home our class mascot. We would like your child to draw a picture and write a few sentences about their adventures and return it by the following Friday ready to give out to the next child. Could we remind you to complete and return the consent forms for your child so that we have all emergency contact details?

Finally, we appreciate how busy it is at the door when your children leave at the end of the day, but please bear with us. Your support will aid a smooth and safe handover for the children.
We look forward to working with your children and yourselves over the coming year.
Please click the links to see an overview what your child has been learning.
During our class worship, we thought about ways in which we can be a good friend to Jesus and our school family. We each have a special gifts and we were shared what we thought our friend's special gifts are.
In our PE lessons, we use lots of different types of balls and play a range of games. We have to aim, kick, throw, bounce and catch.
Today, Year 2 investigated which surface was best to bounce a ball on. They thought about how to make the test a fair test. They concluded that concrete was the best surface to bounce a ball from because it was the hardest surface.
Today, the children have been learning how to create algorithms and to debug! Well done everyone. It was a challenge but you all did well.
Pirate Polly needs a new pirate ship!! Today the children moulded modelling clay into different shapes to test how well they float. Some were able to extend their investigation by testing which shape could carry the greatest weight. They also investigated whether dropping or carefully placing the clay in the water affected whether it floated. The new word of the day was '...buoyancy...'
Today the children have been working together to design and make a parachute. Tomorrow they will drop each one from a height and record the time they take to drift to the ground...the slower the better!! They will discuss the results and will learn to explain the outcome. Today they wrote instructions for making a parachute.
MAD SCIENCE! Today Year 2 were involved in some EXPLOSIVE activities! They had fun learning how mixing certain substances together can create an explosive reaction. There were lots of surprised faces and great team work too.
We enjoyed dressing up as a character from a book we like, for World Book day. Can you work out who we are today?
Today we celebrated World Book Day 2017. The children really enjoyed paring with other friends from Year 6, to share and enjoy reading books together.
Year 2 represented St Anne's extremely well today, and everyone joined in with enthusiasm. Well done year 2!
Year 2 have started their new topic called Towers, Tunnels and Turrets. The children are invited to build a model of a castle, tunnel, tower or bridge at home and bring it to school. Here are few examples of some of the fantastic creations! Thank you so much for your hard work.
The children wrote a prayer today, about preparing for the celebration of Jesus' birth. They thought about how they can bring hope, peace, joy and love. They then took time to recall their prayer as they sat together around the advent wreath that they made together.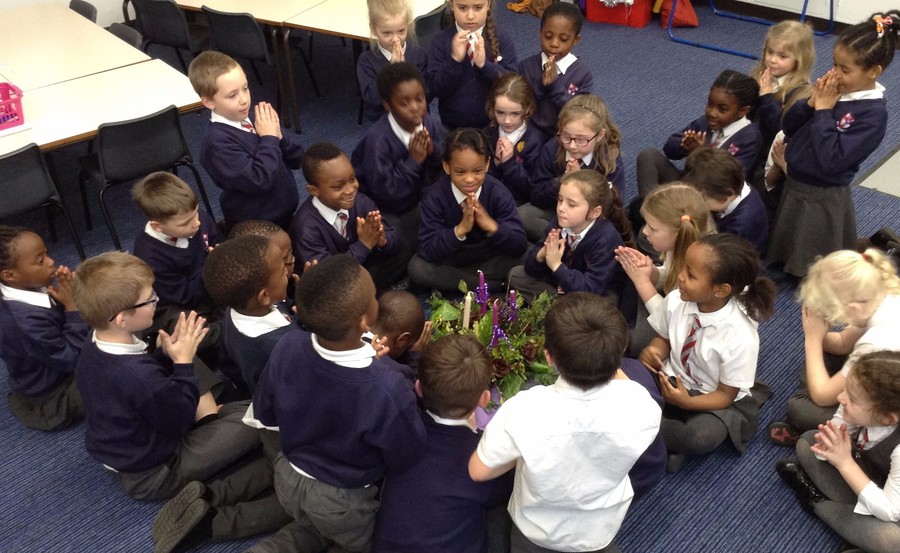 Last week, we used unwanted packaging and recycled it. We were inspired by the story called 'The Tin Forest', by Helen Ward and Wayne Anderson. We decided to make our own musical instruments. We played our instruments, as we sang a well known nursery rhyme.
We sang 'The Grand Old Duke of York', in two parts.
Then we sang 'The Grand Old Duke of York' in FOUR parts! It took some concentration.
Today the children made a 'Glass Xylophone'. The children filled glasses with different volumes of water and tapped them to see how the volume of water changes the sound. They ordered them from highest to lowest pitched sound. They learnt that the amount of water affects the pitch of the sound created by tapping the glasses. They then decided how much water to add to more glasses to create sounds with different pitches. Finally, the children measured the amount of water in each glass and recorded their findings.
Reading to our new friend, Banjo is a real treat!
We love to read! We enjoyed the story Beegu.
We have been learning to partition numbers in different ways.
We have been learning to investigate which materials are waterproof. We then thought about the properties of each material to decide which are most suitable to use for making Teddy's raincoat.