***Parents of Reception Children***
During these times of school closures, we would like to direct you to our online learning journal - Tapestry. This is where you will find challenges set to support your child while they are learning at home.
I would like to stress that, during these times that can be confusing and scary for our little ones, the most important thing you can do for them is reassure them, spend time with them doing things they love and try to keep a daily routine in place. If this routine includes learning time, that's great but remember that we do not yet know how long we will be enduring this current situation, so keeping each other happy and calm is first priority.
Many of you already engage with Tapestry, but if you have not yet activated your account please check your emails (and spam folders) for a new link. Below, I have attached the powerpoint from September that will also refresh your memories on adding observations.
We will set regular activities for your child to engage with (and I've even added my first ever video storytime!) so check it regularly. Remember to add your learning as a separate observation though, so it may appear in the end of year journal for your child's learning.
Stay safe, keep active and look after one another.
We miss you all and look forward to welcoming you all back with a big hug soon!
Mrs Goddard and the Reception Team. x
Welcome to Reception!
We are very pleased to welcome you and your child to Reception at St Anne's. The adults in Reception this year are Mrs Goddard (Class Teacher) Mrs Tasker and Mrs McManus (Teaching Assistants).
To support their daily routines, please ensure your child brings a water bottle, their blue book bag and a suitable coat to school every day as we will be outside in all weather conditions.
PLEASE ALSO LABEL ALL BELONGINGS AND ITEMS OF UNIFORM as we would like to minimise the amount of property getting lost.
The children have settled very well into their new learning environment and have had a fantastic start to the year. Check out the photos below...
Many thanks, The Reception Team.
Handy Hints
To help your child get off to the best start please remember these top tips...
We would like each child to have a blue school book bag with them every day – Backpacks take up too much space in our cloakroom.
In your child's bag, their reading book and yellow reading record should be sent in every day ready for us to hear them read. Remember to sign when you've read together. The children currently have lilac band books with no words – encourage them to talk about the pictures while we are 'on our way' to reading.
Your child will need a bottle in school every day. We encourage water in these as much as possible to get the children started on healthy habits and to protect their teeth.
Ask your child to carry their bottle in their hand instead of in their bags in case they leak on their books and letters.
Please send a PE kit into school if you have not already done so. This should consist of a white t-shirt, black shorts and pumps. It should all be labelled (as should uniform) so that it does not get lost as we change 25 children for PE!
Thank you
The Reception Team.
Please click the links to see an overview of what your child will be learning.
Autumn 2019 term curriculum click here.
Spring 2020 term curriculum click here.
Summer 2020 term curriculum click here.
Roald Dahl Day!
We really enjoyed sharing one of Roald Dahl's fantstic stories on the 13th September, Roald Dahl's birthday. We read 'The Enormous Crocodile'. The children could not believe the "secret plans and clever tricks" The Enormous Crocodile got up to! They listened very well to the story and then decided we needed to go to check that The Enormous Crocodile wasn't hiding in our playground... We were very surprised to find him hiding in our sunflowers just like when he hid in the palm trees in the story! We brought him back into class and told him what he should be eating instead of children and he later made a note to say sorry. Have a look at our super Creative work as we made a Roly-Poly Bird and see that naughty croc in the middle of a telling-off!
Smoothie Bike
On 3rd October we were really keen to have a go on the smoothie bike as it visited school. Everybody worked really hard to pedal and mix our batch of smoothies, which were very tasty.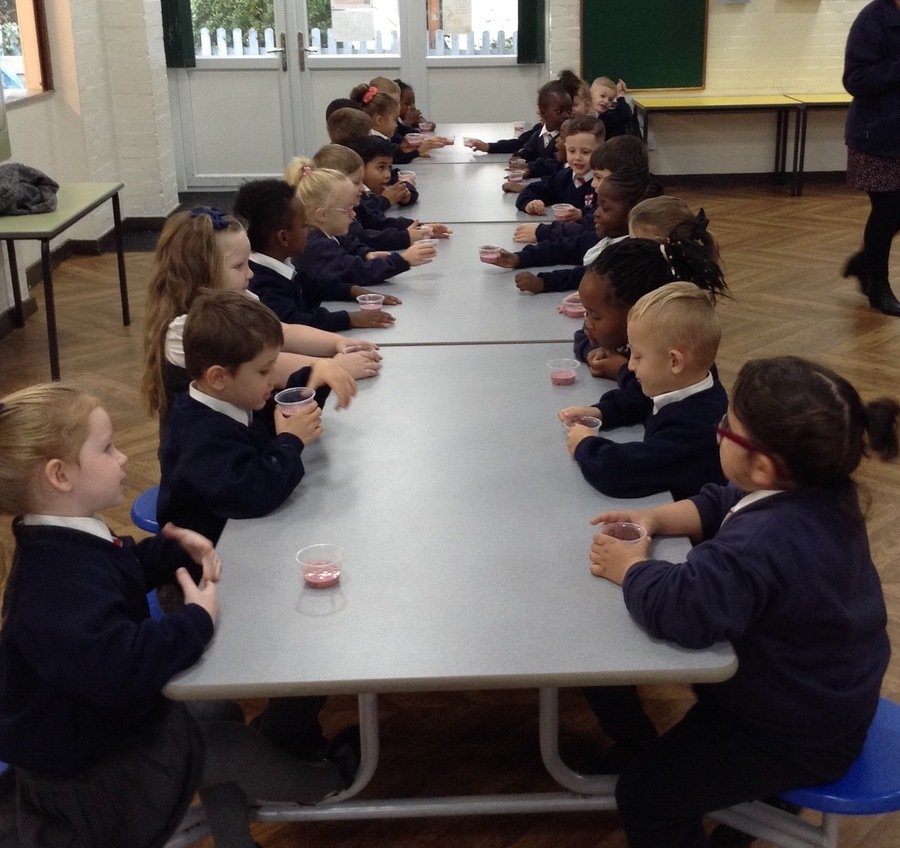 Handwashing with the School Nurses
On the 8th November, we had a visit from the school nurses who showed us when and how we should we be washing our hands!